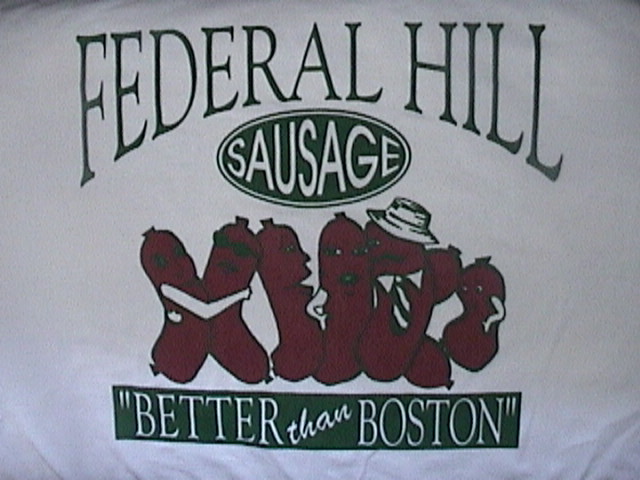 Columbus Weekend Feast on Federal Hill, October 10- 13, 2008
The Federal Hill Sausage stand is gearing up for what should be our biggest weekend of the year and one of our favorite annual traditions! Come find us on Historic Federal Hill in Providence this entire weekend!! The festivities start on noon on Saturday and end whenever we run out of food on Monday!
Parade on Sunday at noon!
As usual, the WORLD famous Federal Hill Sausage sandwich will be there, along with Philly Cheesesteak, Meatball Parm, and Eggplant Parm. These sandwiches are MONSTROUS in size and DELICIOUS in taste. The renowned "Taste of Federal Hill" (a combo plate with a little of everything plus pasta) is also sure to be a hit. Don't worry, if you can't finish the entire sandwich, we'll be glad to wrap what is left so that you can enjoy the leftovers for tomorrow's breakfast!!
FEDERAL HILL in ACTION 2008 -- Heritage Days was a great weekend!
East Providence Heritage Days Festival 2008, July 18 - 20, 2008
Loverboy ROCKED! The sausage sandwiches, ROCKED! It was a great weekend, thanks to everyone that came to visit us!! As usual, IT WAS A SELLOUT! Every morsel of food that we brought was devoured by our hungry fans. As always, thanks for your continued support!
Check out the festival's website here.
Also on myspace: here.
FEDERAL HILL IN ACTION 2006-- Heritage Days was a blast!!!!
Though the weather was uncooperative for most of the weekend, many of our faithful followers threw caution into the wind and came out to enjoy the food from our Federal Hill Sausage stand! This was our 18th year at East Providence Heritage Days, and as is always the case, it was a SELL OUT!! Every morsel of food that we brought was sold and we had to turn away some unfortunate customers that came over late on Sunday. We will be back next year!
One of our fans speaks on EastBayRI.com!!
For Product Inquiries and Franchise Information:
401-556-2214
Comments? Send 'em here: mrfedhill@federalhillsausage.com
His sausage is hot, his sausage is sweet,
He is cooking his sausages on the street.
His sausages are cooking on the grill,
He is the sausage man from Federal Hill!
- original piece by owner Ray DelSanto
Site currently under construction, more pics to be added, thank you for your continued patience.
| | |
| --- | --- |
| | In the meantime, check out some of the items that we're having printed: |
Subscribe for Free
Email Updates


Federal Hill Sausage, Better Than Boston!
Check out our some scenes from previous action: Click here.
Check out our newest "little helper" on vacation: Click here.
Copyright ©2006 by Federal Hill Sausage.com All Rights Reserved.